Dear Suds Valued Clients,
We hope and pray that you and your loved ones are always safe and healthy during this crisis.
Our world has changed and we need to adapt. Thus, we have researched and reached out to experts to establish Suds Laundry's New Normal to make sure everyone's health and safety will not be compromised.
Here's our new protocol:
CONTACTLESS LAUNDRY:
1. Our employees will be required to wear protective gear such as facemask, gloves, face shield, and apron. They are trained to enhance hygiene in handling laundry.
2. Stores will have plastic barriers and alcohol/hand sanitizers.
3. Full-service stores will only accept one client at a time.
4. To minimize contact, we'll implement a new pricing scheme of P350/bag. No more weighing. Each bag will be loaded directly to the machine. You may avail of our bags in advance or ask for a 20x30in plastic bag from the store.
5. Online and cashless payments are highly recommended.
6. We will implement a 2DAY VIRUS INACTIVATION PERIOD which means upon acceptance, your laundry will be sealed and left untouched for 2 days to let the virus 'die off'. See the research here supporting this study. Also, in our FB post.
Here is the Visual Guide for you.
*SELECTED STORES HAVE DIFFERENT RATE. PLEASE CHECK YOUR STORE.
Pick-up and Delivery service via Grab and Lalamove available. Find out how here.
*Selected stores have different rates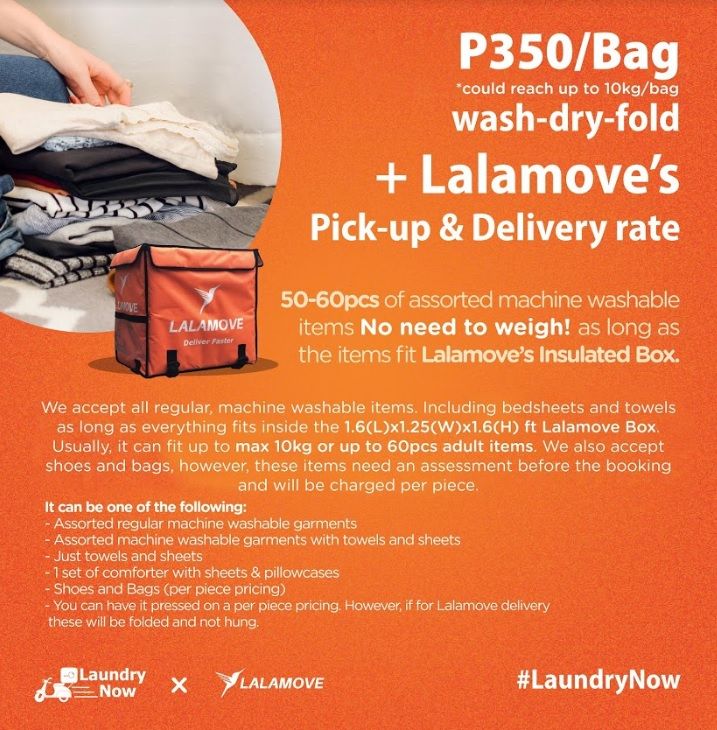 We implore your understanding and support in this new system as we navigate how best to serve you and at the same time stop the spread of the virus. We have so much faith in you that you will be supportive and contributive.
This is truly a difficult time for everyone, but together we can make this work.
If you would like to avail of our Contactless Laundry Bag or LaundryNow! Bag in advance, please order here.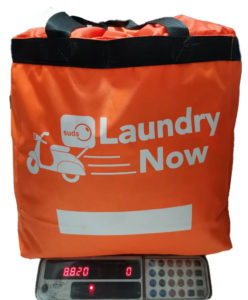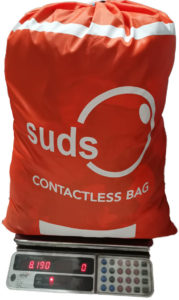 Here's a video of how the Contactless Laundry Works.
www.facebook.com/sudslaundry
www.facebook.com/sudsgo
www.facebook.com/sudsgocleaners
© 2020 Suds Premier Franchising Corp. All rights reserved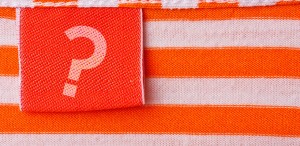 FAQ for Laundry's New Normal